Family builds mobile bed for 16-year-old senior dog so she can visit the beach
Senior pets often slow down and can't get around the way they used to, so they need a little extra love and care. It's always inspiring to see what people will do to help their pets when they get older.
We've seen people go out of their way to build ramps or create a special wagon so these dogs can still live their best lives while they're still around.
And now, one family has gone viral for their very clever idea to help their old dog get around in comfort and style.
Tom Antonino, from Georgia, is the owner of a Chesapeake Bay retriever named Cocoa. While Cocoa was once an energetic young dog, she began to show her age. When she turned 16 — years past the life expectancy of the breed — she had difficulty going to her favorite places like the dog park and the beach.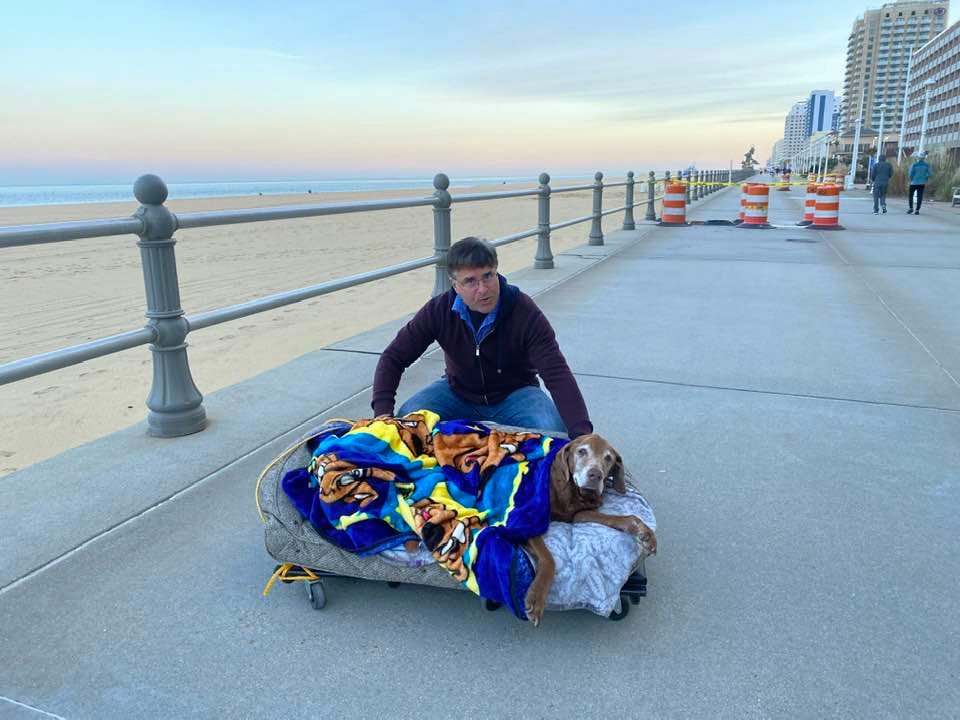 Facebook/Carrie Copenhaver
While Cocoa could've just stayed at home in her old age, her owners wanted her to be able to experience the world while she still could. So, they came up with a great idea: a mobile bed!
The mobile bed, made by Tom and his wife from scratch with a little creative engineering, let the family take their old dog to her favorite spots while still letting her rest easy.
"We had rope and a bed, and we'd bring her out," Tom told WTKR.
The adorable idea quickly gained widespread attention. In February, a woman named Carrie Copenhaver happened to see Cocoa out and about in Virginia Beach, out to "enjoy the smells of the ocean," and was deeply moved.
Tom, who is not on Facebook, was surprised when the post went viral, but understands why it made such an impact.